/ / / G E N E R A T I V E / / /
A curated NFTs drop of generative art by fakewhale.xyz
• Wednesday, June 21st, 6 PM CET/12 PM ET •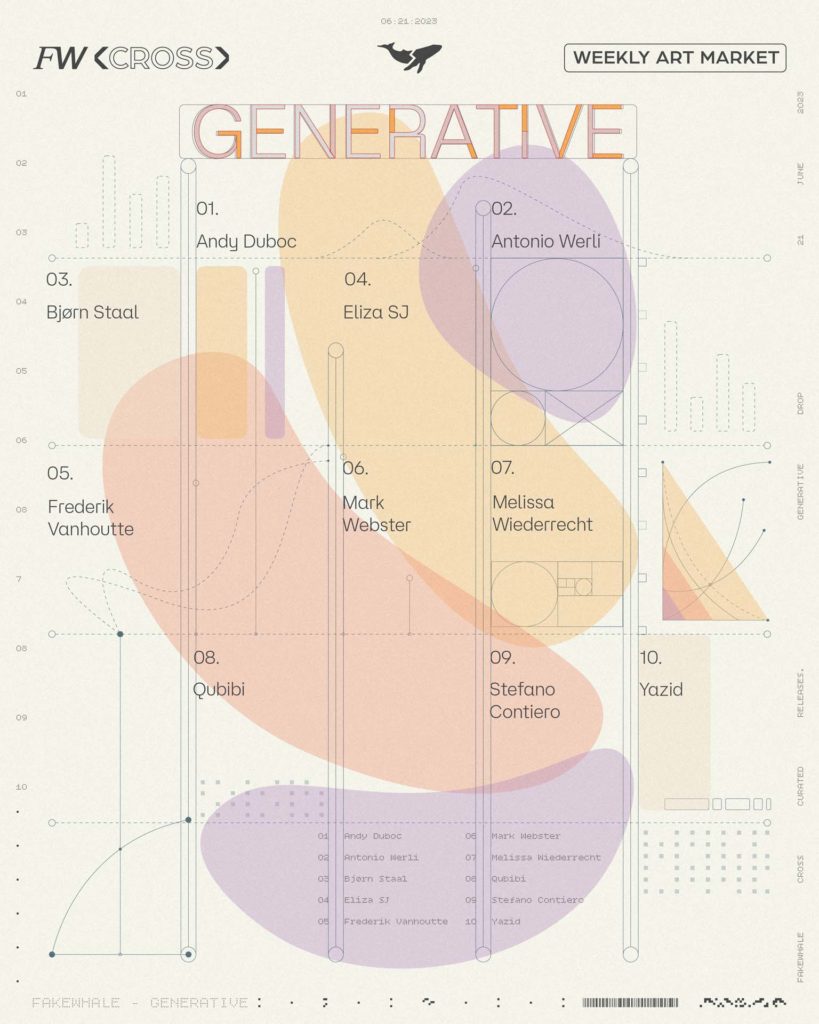 "We are proud to present GENERATIVE an unprecedented curated drop featuring generative artists Andy Duboc, Antonio Werli, Bjørn Staal, Eliza SJ, Frederik Vanhoutte, Mark Webster, Melissa Wiederrecht, Qubibi, Stefano Contiero and Yazid.
Introducing a sort of "Fakewhale Paradox" – through this curated release we aim to broaden the common perception on how generative art is usually presented to the market, in line with our commitment to uphold originality in all our initiatives.
While generative artists typically release in long-form, a very suitable medium for the intrinsic qualities of generative art, it is also true that each artwork represents an infinite potential. We envision a cross-contaminated realm where artists can thrive, seamlessly bridging the gap between digital art and its multiple declinations within the blockchain.
For this reason, we've intentionally chosen to release the artworks of this collection through a theme-free series of multiple editions. We consider the selected artists to be among the most influential creators working with code, and we would like to thank them for taking part in this unique format."
— fakewhale.xyz (23/06/19)
>> Fakewhale | Cross NFTs on objkt.com
>> Fakewhale on twitter
>> fakewhale.xyz